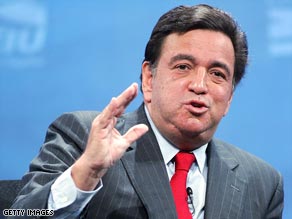 (CNN) — New Mexico Gov. Bill Richardson signed a bill Wednesday repealing the death penalty in his state, his office confirmed.
New Mexico Gov. Bill Richardson signed legislation repealing the state's death penalty.
"Regardless of my personal opinion about the death penalty, I do not have confidence in the criminal justice system as it currently operates to be the final arbiter when it comes to who lives and who dies for their crime," Richardson said in a statement Wednesday.
He noted that more than 130 death row inmates have been exonerated in the past 10 years, including four in New Mexico.
"Faced with the reality that our system for imposing the death penalty can never be perfect, my conscience compels me to replace the death penalty with a solution that keeps society safe," he said.
With the governor's decision, New Mexico joins 14 other states that don't impose the death penalty. Several other states, including Colorado, Kansas, Maryland and Montana, are considering changes to their capital punishment laws.
The bill replaces the death penalty with life without the possibility of parole.
New Mexico currently has two men on death row and has executed one person — convicted child killer Terry Clark, in 2001 — since the United States reinstated the death penalty in 1976. As the legislation is written, it will not affect current death row inmates.
Read more: New Mexico governor repeals death penalty in state – CNN.com