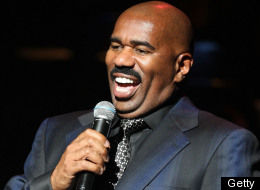 Steve Harvey is joining ABC's "Good Morning America," where he will deliver "a series of reports on topics ranging from relationships to parenting over the next few months," according to a network press release.
Harvey currently has a morning radio show, "The Steve Harvey Morning Show," which airs in 60 markets nationwide. His first report is scheduled to air this Wednesday, August 19.
Harvey spent seven years starring on the WB's "The Steve Harvey Show" and is a #1 New York Times bestselling author.
"He will bring his own unique perspective, style and humor to morning television while interacting with viewers around the country via ABCNEWS.com, Skype and live guests in-studio," ABC said in the announcement.
This post has been viewed 1243 times.